PheNoumenon
by The Human Expression (T.H.E) Dance Company (Singapore)
Uncannily orange, enrapturing, and microcosmic: dive deep into the relationship between the modern being and their world, told through an intrinsic movement web steeped in T.H.E's signature HollowBody methodology.
Photos by Crispian Chan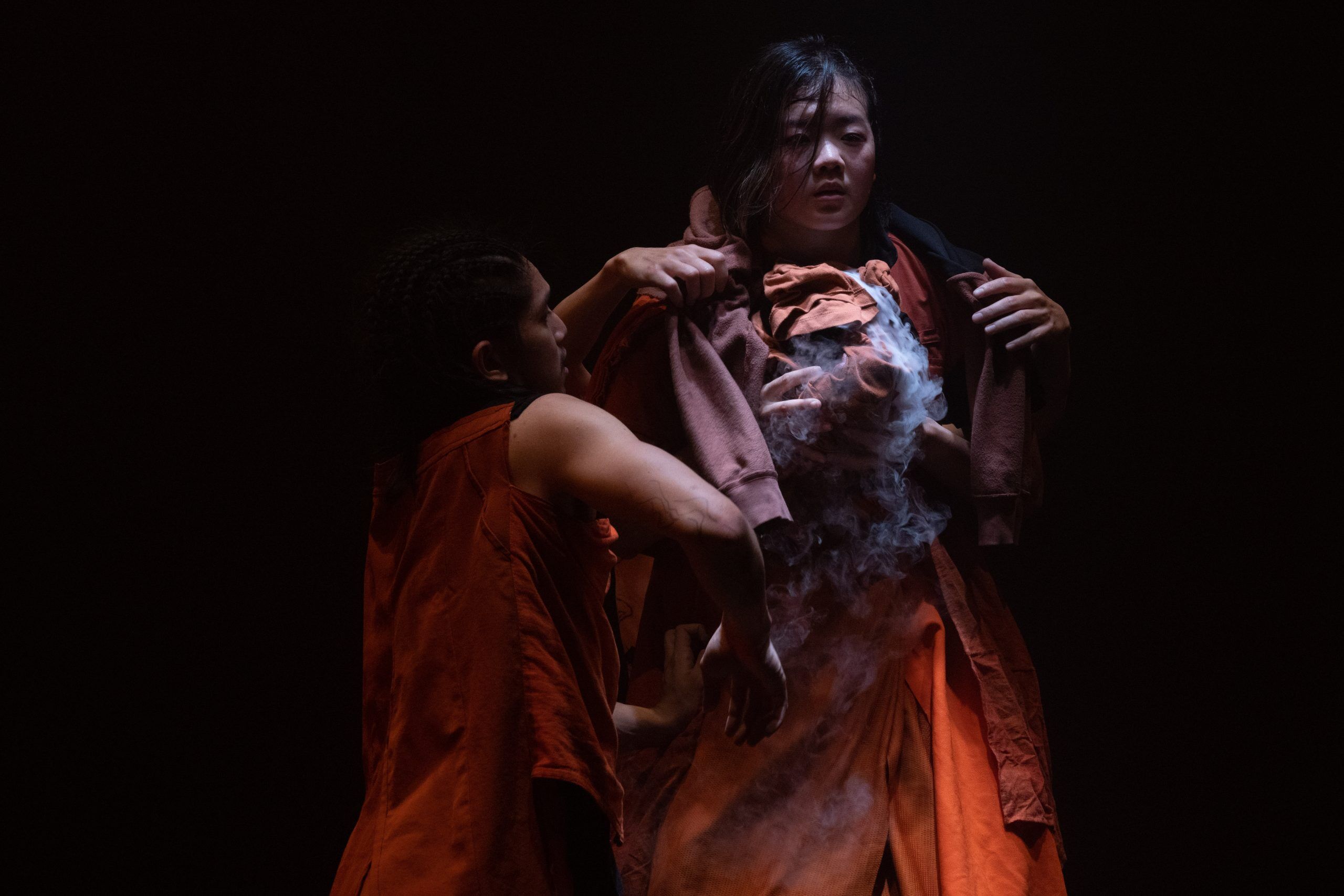 Buy Tickets
Dates
15–17 June, 8PM
18 June, 4PM

The shows on 15 and 16 June are accompanied by post-show dialogues.
Tickets
Standard: $40
Concession: $28

Format
Live, In-venue
Esplanade Theatre Studio
Estimated Duration
Approximately 90 minutes
Accessibility Notes:
Haze effects, and extremely loud and high-pitched sounds will be used in the performance. This venue is wheelchair-accessible. If you require support to access the venue, are pregnant, or have mobility or related issues, and would like to request to reserve a chair, please get in touch with us at festival@the-dancecompany.com.
This programme features an immersive audience seating arrangement. You are advised to dress comfortably. Haze effects and extremely loud, high-pitched sounds will be used in the performance.
A simmering tension brought to the fore— an eruption, an implosion. Man finds himself amidst a jungle of steel and concrete while the natural world decays and global chaos threatens to upend. Look out, look carefully; what do you see?
After a successful virtual reality (VR) adaptation and tour during the pandemic, and a performance run in London last year, PheNoumenon returns to its premiere stage with a renewed invitation to look in, closely. Step into a world imbued with memories, destabilised by our present, and marred by consequences: PheNoumenon promises you a dystopian portrait that is startlingly resonant, and reflective of the social, spatial, political, technological, and environmental dynamics of our time.
Applicable to all ticketed programmes.
Friends of T.H.E (Emanate)
Friends of T.H.E (Embrace)
Friends of T.H.E (Embark)
NAC–AEP Tote Board Arts Grant
Schools are eligible for the Public Arts Programme funding of up to 50% from Tote Board Arts Grant. For schools interested in bulk-booking tickets for students, please contact us at festival@the-dancecompany.com
Got a question?
Get in touch with us.